Eagle Wire Shelving
Wire Shelving by Eagle Group is the highest quality wire shelving on the market today. Utilize wire shelving for a variety of applications requiring wire shelves with increased light and air flow for Clean, compact, and dust free. Wire shelving applications center around hospital, food service, electronics, office and clean room type storage requirements


Eagle Wire Shelving
Performance and Quality are the Trademarks of Eagle Wire Shelving. Step up to greater organization,
higher capacities, durable wire shelf construction, and longer lasting exterior finishes with Eagle Wire Shelving.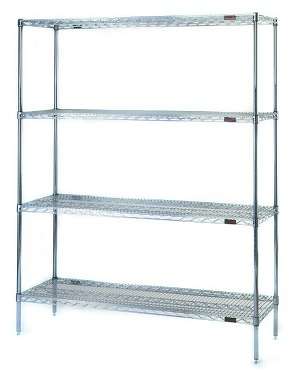 Eagle Wire Shelving
See our Product Offering by clicking on the link

Unique design offers high volume, easy access storage in a variety of finishes to suit your needs. Open wire truss reinforced shelves feature front to back welded surface ribs for added strength. Increases light penetration, free air circulation and merchandise visibility. Minimizes moisture and dust accumulation. Easily adjustable and expandable to change with your needs. Shelves adjust on 1" increments.

The Material Handling Division was created to meet the needs of a multitude of manufacturing operations. The multifaceted product line can be put to use in all types of warehouse and storage/retrieval operations. Electronic based manufacturing is suited for Eagle Group Wire Shelving. The Eagle clean room/lab offering is designed to provide options to meet the myriad of storage and processing needs in critical environments.

Back to Home Page
Copyright Equipment and Supply Central 2012
Eagle Group Wire Shelving